Hi ho, ho ho, it's back to work I go!
Dear friends,
Just a quick note to let you know that I'm feeling far, far better after my surgery. Still a little soar at times, but no big deal. I worked with my first clients today and it felt dandy!
So, feel free to call for your next appointment. My schedule is fairly full for the next couple of weeks, but still have some slots open.
One thing I didn't mention before.... the weekend before the surgery, I took my next Advanced Myofascial class on the spine, ribs and low back. Another great one! And, I only have two more classes before receiving certification in Advanced Myofascial work. Plus, my dear friend and colleague, April Sykes, LMT took the class with me! It's always nice to learn and grow with a kindred spirit!
In other news, our little dog Chaya was bitten by another dog while playing fetch. Thankfully, it wasn't a fight. But, very inappropriate play displayed by the other dog. To be honest, Chaya gets so focused on chasing the ball that she probably barely noticed the nickel sized chunk out of her side.
I brought Chaya into the vet last Friday, the day of the incident. The vet squeezed us in, even though they were overbooked and referring clients to other clinics. Chaya came home that afternoon with some colorful sutures in her side. She's as happy and cuddly as ever and recovering nicely.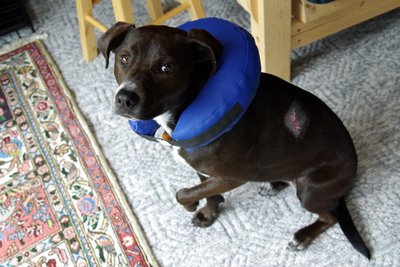 Blessings,
Hamid : )
~
Hamid LMT - Massage therapist in Portland, Oregon