It's been awhile! A much needed update...
Life trots merrily along. But, I regret I haven't written in some time. Business has been generally excellent since moving to the new office on NE Broadway. The space feels really good... nice and light and free.
We recently had a bit of mishap. Chaya, our beloved 10 month old labrador mix puppy broke her toe. My wife was playing fetch with her at the time. Chaya ran to get the ball, caught it and then dropped. She was limping when she could be finally coaxed back up.
We took her to the vet... a 24 hour animal hospital... and got her foot X-rayed. A nice, clean break of the outermost toe on the right, hind foot. She has a bandaged spint on now and wears a cone over her head when we can't watch her. She actually looks pretty darn funny! The first five days were the most tough. We had to keep her sedated and kept in her crate so she'd keep off the foot. Now, she's trotting around the house with great vigor (a little too much sometimes!) as her foot is beginning to feel better. It will still be another couple of weeks before we go back to the vet to remove the bandages and re-examine her foot.
Here's the little lampshade...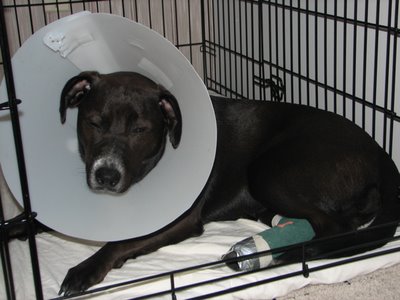 Since Chaya needs more care right now, my schedule won't be quite as flexible until she's back to health. Thanks for your understanding!
For the first time, I've been playing around with iMovie on my Powerbook. I made a couple of video last night and today. One is a compilation of my Mustang at the track. For those with tender ears, please excuse the heavy metal music... it just seemed very appropriate for the visual material. The second video is of Chaya... oh, how I love that little doggie!
You can find the two videos on the updated Creativity index page... There's also quite a few new photos on the online photo album... be sure to check out all of the creative updates!
The Creativity Index - videos, photography and poetry
Looking forward to when our paths cross next...
Blessings!
Hamid : )
~
Hamid LMT - Massage therapist in Portland, Oregon